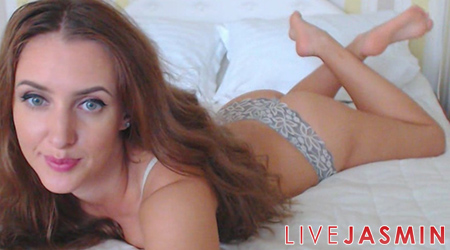 Visit site
Features
Quick previews of active cams via mouse hover over.
Male, female, and tranny models.
Couples (gay, lesbian, and straight alike) are available to have live sex on cam.
The ability to mark the models you like most with a star to add them to your favorites list.
A robust searching system that allows you to filter models via age, gender, willingness of participation in particular fetishes, and many other various specialties.
Good video quality with most streams.
The ability to take quick snapshots from within the stream's user interface.
Cam 2 Cam. See the performer and let them see you.
Recorded Sessions and Videos. Watch recordings of live shows and movies uploaded by chat performers.
Performers' Promotional Videos. Free videos of the chat hosts.
The option to surprise the models with a gift in the form of credits.
10.99 in free credits for each new user.
Message centre. Send and receive messages from performers.
LiveJasmin.com is a surprisingly large live cam website. At first glance the layout may make it appear deceptively shallow or simple. One arrives at the website to see many rows of models with no real clear sense of order. But as one digs deeper they will find a plethora of models to fill just about every fetish they could reasonably expect to be filled on a sex cam site.
The best feature of LiveJasmin.com by far is its fantastic search filters. You can filter models down through a ludicrously thorough set of standards. You can sort models via Category (girl, lesbian, fetish, couple, etc), the language they speak (English, German, Spanish, French, or Italian), their birthday, the video quality, whether or not they have two-way audio, their age, their chat status, their ethnicity, their build (petite or BBW), their general appearance (shaved, hairy, pierced, tattooed, etc), their hair color and length, their breast size, and their willingness to preform certain sex acts (which includes everything from anal sex, smoking, and fingering, to squirting, and footjobs).
So if you meed to see a blonde Asian girl in her twenties who has a tattoo that is willing to smoke cigarettes whilst stripping in order for you to orgasm, then look no further. You can get as specific as you need to on this site. And it saves a lot of time searching through unattractive models that don't tickle your particular fancy.
Once you find your model of choice, things generally go very smoothly. The chat user interface is straight forward and simplistic. It allows you to take snapshots on the fly and look through a gallery of images that have been previously taken of the model. It also allows you to give the model a gift in the form of credits. Aside from flattery, this doesn't seem to serve much of a purpose, and one could argue that the credits would be better spent on securing a private show for yourself. But the option is there none the less.
The video quality is alright. It isn't bad, but it isn't perfect. Most of the time it's good enough to satisfy, but on occasion it seems to lag and de-synch. It isn't a horrible problem, but even the HD streams seem to suffer from it now and then.
The audio, on the other hand, is generally pretty consistent. It's of a high enough quality to let you hear everything you're going to want to hear. You might not hear a pin drop, but you'll certainly hear a moan.
All in all, LiveJasmin.com is worth a visit if only for the wide range of different models and the ease at which you can filter through them. It's refreshing to move from one cam to another so quickly and specifically. But if you don't mind taking your time with your search then the site loses a lot of appeal. And if you're looking for anything particularly unique you won't find it here. But what you will find is a quick and clean cam site that is pleasant to navigate. And that is something that not every site can claim to be, even if other sites do have more outlandish acts on display.
Click the button below to see for yourself, why Livejasmin.com is one of our top rated sites!