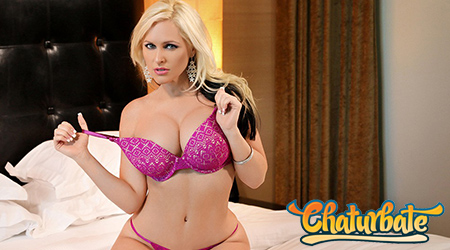 Visit site
Features
A nice range of both free and premium options
Live sex and couple cam feeds
Performers of all genders: female, male, and transsexual
The ability to chat with both models and other users
The option to do group chats, which lets you split the bill with one or two other users and share the directorial duties
Tie-in dating site
A blog that supplies news, model showcases, and answers to frequently asked questions
Users can put on their own shows
Chaturbate.com focuses heavily on the social aspects of sex cam websites. Many cam sites allow users to chat with each other and interact, but on Chaturbate.com it is one of the center pieces. The entire point seems to be a sort of social masturbation. Their slogan on the site banner sums it up fairly well: Chaturbate - The Act of Masturbation While Chatting Online. And Chaturbate.com offers exactly that.
As far as selection goes, Chaturbate.com offers something for everyone. If you are into women, men, or transsexuals, they have someone to match your tastes. They also offer couples cams and live sex. There are even several threesomes floating around at any given time (usually two females and one male). And models can be either professionals or amateurs. Some are just random people like you who decided to broadcast that day, but we'll get to that in a moment.
So Chaturbate.com probably has a few models that you'll enjoy, but you'll have to find them first. The main page is organized by tabs: Featured, Female, Male, Couple, Trans, and Group shows. These are about the most general filters any site can offer. If you want to filter things down more, you'll have to go to the advanced searching options, which are user only. These options are region filtering (i.e. North America, South America, Asia, etc), searching by name, and High Definition camera prioritization. And that is all they offer. No more, no less.
It isn't difficult to sign up, though. And you do not need to supply an email. So you can make a quick account that has no ties to you what-so-ever. And you will never receive any sort of unwanted emails from them. And they do not require you to give them your credit card information either. You can be entirely anonymous, or close to it.
One of the great things about Chaturbate.com is their free offerings. You can watch models that aren't in private sessions endlessly. And you can earn free tokens that you can redeem for private shows. Hypothetically, you could use Chaturbate.com entirely free. Which is a big plus.
And, best of all, there are models that offer themselves (almost) entirely for free. The condition being that they hope to gain tips from users watching their live video stream. However, tipping is not mandatory by any means. If you look around you'll find people willing to masturbate for your enjoyment with absolutely no payment necessary. No need for a private show, no need for any tokens. Often times other people have often tipped them plenty.
Probably the most unique feature is the ability to put on your own shows. You can do so for free, or for tips. So if you are in the mood to be an exhibitionist you can get a live audience of thousands and masturbate to your hearts content. And they might even tip you tokens that you can use for features on the site.
Interestingly enough, there is a tied-in dating site that Chaturbate.com runs. You can use the same profile for both websites. This gives performers the chance to meet one another romantically. Or, potentially, viewers to land dates with performers. Even if you don't use it, it is certainly something that you don't see everyday.
Chaturbate.com is a really well rounded site. The ability to use it for free without ever paying a single penny is great. The bonus features - such as the dating site and the option to stream your own shows to others - make it a really unique site. And the social aspect makes it feel friendly. More often than not the people you're chatting with are just like you. They aren't models or paid actors. Just women (and men) who decided that they felt like doing something sexual for an audience that day. For that atmosphere alone Chaturbate.com is worth checking out.